The Feast of The Holy Crucifix.
It is the 14th September in the Cathedral and the Crucifix is carried away from its Chapel and conducted to the main alter amongst the cries of "Hossanah" from the devotees to the sound of church bells and fireworks. In the evening the exit of the Crucifix is one of the special moments. The sacred image is sustained by the fraternal brothers for a few moments under the big antique Renaissance main door. The religious procession follows along the long winding old main paths, while the people follow silently in prayer behind the holy effigy. The Crucifix is carried by the Devotees while the fraternity of the Holy Tttrinity, the women congregation of the Heart of Jesus walk behind. They are followed by the musical band.
The Feast of The Holy Trinity. On the first Sunday of June, every alternate year (odd) there is the feast of the Holy Trynity. The most intense moment of the festivity is the morning. The people of Forza D'Agrò are preceded by the members of the Fraternity of the Holy Trinity. The high banner of the Holy Trinity is carried in procession by the "brothers". The procession begins its journey from the Triade to greet the fraternal brothers of Gallodoro. The meeting between the two communities takes place in the open countryside below the barren and romantic rocks from which the panoramic view of the Taormina Bay can be seen. The two processions slowly walk towards each other swaying slowly their respective banners. The movement of the banners is the focal point of the spectators who watch with emotional anticipation the joining of the two banners. The "Kiss" which is symbolic of good wishes, bestows relief to the population who take part in the minifestation of friendship. It is a sign of true auspiciousness. There is a jubilation of voices and applauses and sounds of fireworks in its suggestive surroundings. At the end of the eurocristic celebration and the procession of the banners, as a token of hospitality, everyone is given a small ringshaped cake "cuddura".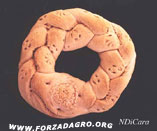 At sun set the statue of the Holy Trinity is carried in procession.
The Feast of The Bay Leaves. Tradition is that on Easter Monday there is the procession of the sacred oils. The bay leaves are the symbol of the triumphant Christ and accompanies the sacred oils. The banners are made from bay leaves. The display of religious symbols are made from the bay leaves which are put on wooden frames and are carried in procession to the far end of the village to be blessed. Even on this occasion the "cuddure" are distributed to the people.